Foster Equal Opportunity
No personal data as names, gender or age. Only what's relevant: The skills you bring to the table.
Skillmaps focus on WHAT you have done - not WHERE you have done it
Every skillmap is unique, as you are. Create your skillmap in a few minutes by entering your skills, how regular you applied them and tell something about your tasks or projects.
As easy as that!
Create Your Skillmap Now
The Job-Ads CV paradox
Why the focus of current CVs does not match the job-ads demand
What job ads demand:
The normal qualification section of job-ads consists usually of the following, as these two example positions of two big tech giants reveal:
One bullet point about University degrees
One bullet point about field or branch experience
3-10 bullet points about your hard skills
Job requirements are at least 60% about skills
What current CVs provide:
CVs are mainly about WHERE a person worked, not WHAT the person has done and which skills were applied. Here are two CVs, that present the standard structure: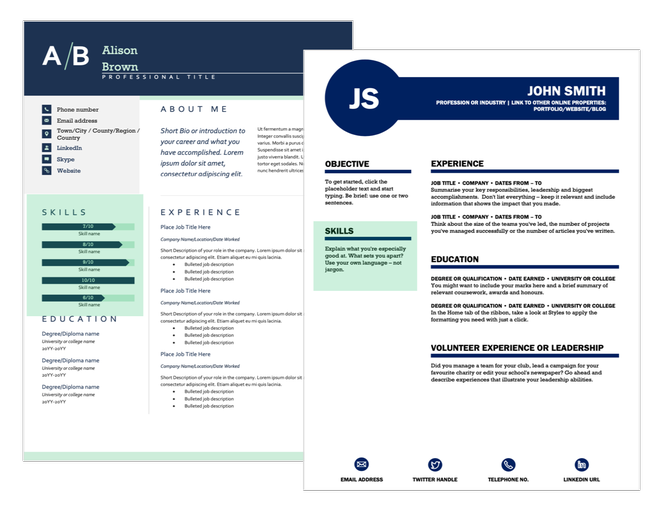 Focus on Employer names and job titles
Focus on University names and degrees
Only 10-20% of CV content is about skills
Solution: Higher focus on your skills
Meet the criteria of job-ads and enrich your CV with a skillmap.
Integrate a skillmap into your CV
Through the implementation of a skillmap into your CV, you directly enlarge the focus on your skills, not only visually. Present your strengths and capabilities adequately and show what you have done.
Powerful CV examples
How to boost your CV with a skillmap
Resumes can be interesting, unique, interactive and exciting: with a skillmap.
Skills ratings based on four pillars with separate scales,
NOT universally on the levels "beginner", "intermediate", "expert"
Focus on what you have done,
NOT where you have done it.
Skills are rated on a standardized comparable scale,
NOT on a subjective and volatile scale or infograph.
Skills are visualised in a coherent overview,
NOT in an incoherent and boring list.
The Four Pillars of your Skills
all regarded in your skillmap, of course
Success Stories
Want to see a skillmap in action? Experience great examples of a UX Designer, Data Analyst, Online Marketing Manager and Cloud Engineer.